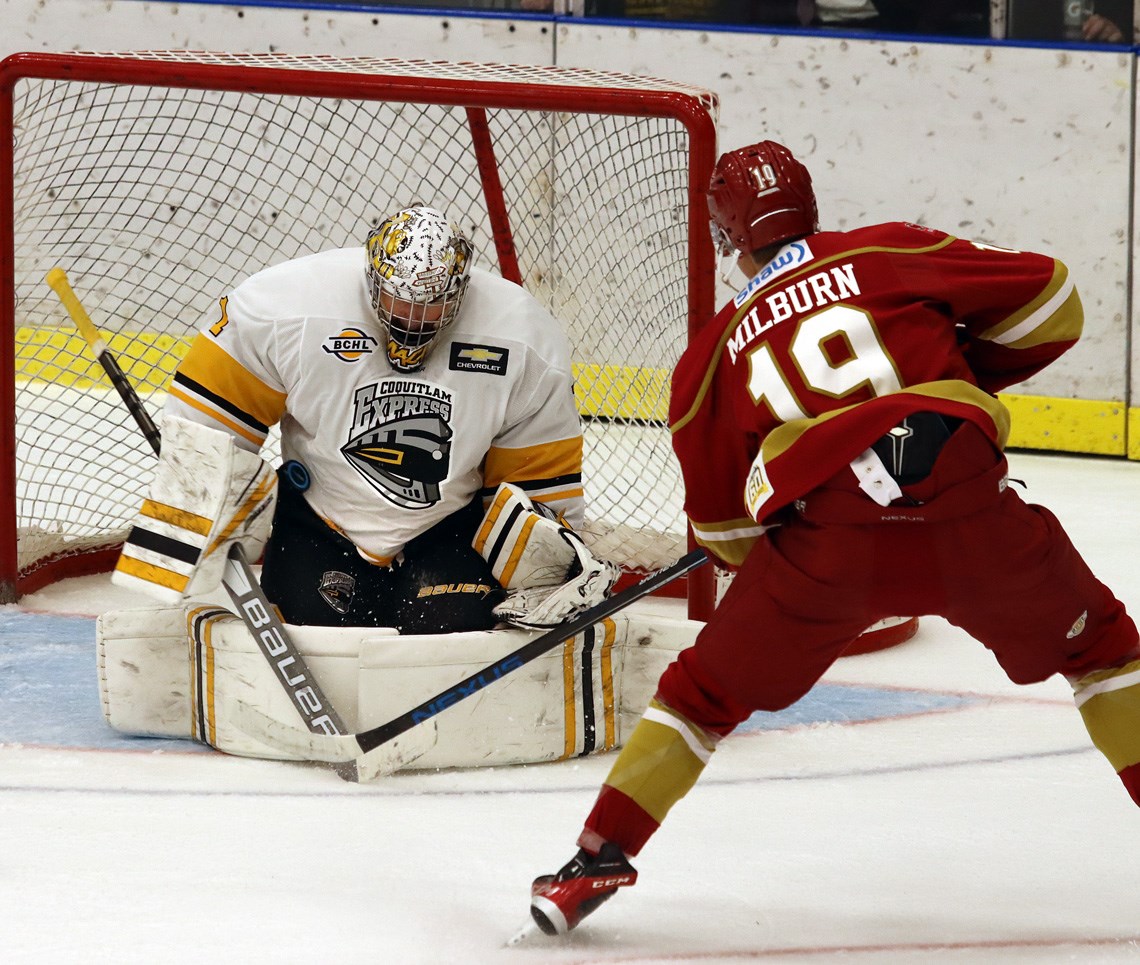 Here's how public health restrictions could affect the Coquitlam Express
The Coquitlam Express will return from the holiday break on January 2, but the capacity of the Poirier Sports and Recreation Complex will be halved.
As the Coquitlam Express players return to their hometown for the vacation, many are wondering what they could come back to when the team is due to resume its BC Hockey League season on January 2.
Will there be supporters to cheer them on at the Poirier Sports and Recreation Complex?
Will they even be allowed to play the rest of the season?
The rapid rise of the Omicron variant of COVID-19 has once again cast a cloud of uncertainty over much of society and Express chief executive Tali Campbell said his accusations felt anxious.
On Monday, new provincial public health orders went into effect in an attempt to limit the possibilities of the spread of the virulent new strain of the contagion. These orders include a 50% capacity cap for events in venues that can accommodate 1,000 people or more. The restriction is in effect until January 31.
It's a big blow to the Express, Campbell said. The team have seven home games scheduled for January, including special events like its "retro night" and a 25th anniversary celebration that includes appearances by several former players.
Campbell said renewed COVID concern was already apparent ahead of last Saturday's home game against the Powell River Kings as he answered multiple calls and emails from ticket holders to inquire about refunds and procedures improved security.
The new restrictions are just another blow to an organization that was wrested from a league and national championships when the onset of the pandemic forced BCHL to suspend its 2020 playoffs after the first round.
Then a five-week show season this fall was cut short by public health orders and a subsequent pod season last spring sent the Express to Burnaby to play a series of games against the Kings and Eagles of Surrey in an empty arena.
"It's hard to grasp now," Campbell said of the latest setback. "We feel like we are two steps ahead and then 10 steps behind."
But one of those steps back can still turn out to be a huge leap forward.
A road trip to Merritt and Prince George in November turned into an extended liaison exercise when a record-breaking rainstorm that inundated parts of British Columbia and damaged several key highways stranded the team in Kamloops during many days.
Campbell said being cut off from home and running out of clean clothes brought the squad together in a way no win could – although a 7-6 overtime win over the Centennials and a win. 3-1 against the Spruce Kings certainly helped him as well.
"Everyone has stayed positive," said Campbell. "That's when we changed our minds to challenge everyone to improve. "
And while that change didn't always translate into results on the ice, Campbell said he's no more proud of the young men than his players are becoming.
He said the sign-up sheets he posts on the locker room wall soliciting volunteers for various events such as school visits or community appearances are quickly filled and often oversubscribed.
Several players came up with their own ideas to help, including a campaign by Ryan Tattle of Port Moody that raises money for a new breast cancer clinic at Eagle Ridge Hospital with every point he scores.
"This is the group that I have joined the most," said Campbell, who previously worked with the Nanaimo Clippers and the Alberni Valley Bulldogs.
Ironically, the enthusiasm of some players to be a part of the community where they play may be due to the very pandemic that has also brought them so much uproar and stress.
Campbell said the past two seasons have really made players understand the uniqueness of their opportunity and the importance of this milestone in their lives.
He said that after getting ripped off the sport they loved or playing it in empty arenas, they really enjoyed their interactions with young players and fans, whether it was joining a minor hockey team for a practice or to celebrate a goal. to the cheers of a thousand people in the stands.
"It really opened my eyes to the fact that at any time it can be taken out again. "