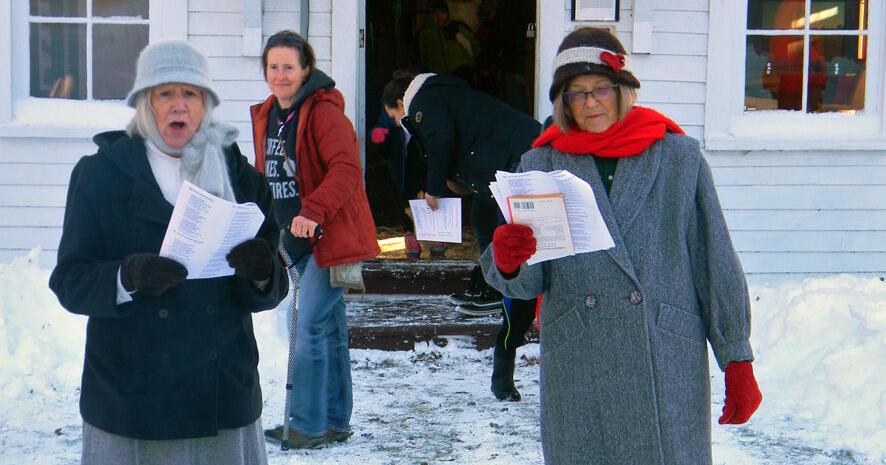 Hundreds of people flock to Pioneer Village for Christmas event | News
There had never been a Christmas season event at the Barron County Historical Society's Pioneer Village Museum before Saturday, December 11, 2021.
Perhaps that is why the event drew a huge crowd, estimated at around 1,000 people.
Volunteer Maureen "Mo" Tollman, of Barron, said there was an attempt to keep track of the number of visitors, but the volume of traffic was too large to count accurately.
The weather couldn't have been better for the event. An estimated five to 10 inches of snow fell on Friday evening and Saturday morning, December 10-11, followed by sunny skies and temperatures near freezing.
Volunteers dug an opening in the parking lot on the north side of the field, but the flood of incoming vehicles quickly filled the space. So, volunteers helped direct traffic to the village itself, allowing visitors to park along the driveway, while other volunteers used a van and plow to open up the roads even more.
Eventually, the hard-working volunteers found a circulation pattern that worked for everyone. Vehicles arrived on the lot at the north entrance and parked wherever space was available. Upon leaving, the drivers were directed south through the village and the gate along County Hwy. W.
Elyse Snelson, 5, of Shell Lake, was walking with her family through the village when she stopped in her tracks to gaze at two huge Percheron workhorses waiting to be harnessed to a sled.
Her mother, Danielle, said Elyse loved horses. Cayden Baker, of Rice Lake, was looking after the animals, who said the horses, Maya and Zeus, were owned by Shane Jorgenson, Cameron.
Visitors were eager to take a sleigh ride, even if they had to wait. First of all, the sled needed some repairs. That same afternoon, Baker said, Jorgenson had a date with a team of horses at a local wedding. Later, however, visitors who stayed were rewarded when Maya and Zeus led the sled in a series of rides around the grounds.
Several open fires were blazing around the village, including one in front of Father Christmas's workshop. Outside the door, two bundled up volunteers sang with the visitors. Carol Wozniak, Turtle Lake, and Audrey Held, Cumberland, had more than one person sing Frosty the Snowman with them, as they warmed their hands and feet by the fire.
At Ebenezer Church, the sounds of music and carols drew visitors inside, where an ensemble of three musicians and two singers led visitors in a series of Christmas carols.
"It was our first time together," said Bob Rogers, Chetek volunteer. "We had been approached by (the museum director) Tammy (Schutz) to play at church."
Rogers, who played guitar, and his wife Lynda on drums also brought in singers Wayne and Connie Olson and flautist Rachel Elbin.
"We've known each other for 30 years," said Rogers. Rachel's husband is the vocal director of Chetek-Weyerhaeuser High School.
Song sheets were distributed to visitors, who sang familiar hymns while sitting on the pews of the church.
The event, which ran from 2 p.m. to 6 p.m., also included a lighting event for trees and buildings decorated with lights.